About Leo's
Add a site
Awards
Banners
Bulletin Board
Calendar
Car Buying
Cities
Chat Rooms
Crimes on the Net
Crime Prevention
Departments
Earn Money
Free Stuff
Game Rooms
Gangs
How to Be a Cop
Job Openings
Internet Resources
List Event on Calendar
LE Related
Nominate a site
Officer Pages
OnLine Store
Organized Groups
Other MO Links
Police Chat
Police Car Photos
P.O.S.T Credits
School Crimes
Search Sites
State Sites
The Thin Blue Line*
Training Centers
US Government
Violence
Web Rings
Sign Guestbook
View Guestbook
Welcome to Missouri Law Enforcement OnLine (moLEo). If you are stuck in someone's frames, break out of frames now. This site is dedicated to as you would guess, Missouri Law Enforcement Officers. Missouri OnLine is not affiliated with the state of Missouri but is maintained solely by Missouri Police Officers. Currently more than 1,200 officers make up moLEo and the site is maintained with help from many of these officers. Many officers contributing to the updates of Missouri OnLine have links to their pages on the officers page.
It is our hope this site, along with Cops on the Net will provide you with information in the many areas of law enforcement in Missouri and worldwide. Make sure you stop by The Thin Blue Line before you disconnect from the net. The thin blue line lists officers injured and killed in the line of duty as well as other important information. We are listed in hundreds of law enforcement sites and publications. While moLEo is dedicated to Missouri, Cops on the Net is dedicated to all the Officers who serve outside Missouri. We will try to list sites which will be of help to all officers in Missouri. For those of you who are not yet in law enforcement but would like to find out more check out the about leo's page.
A public list of the all Missouri officers, departments, cities, counties and state sites which are on-line is located at mopub.html, if you know of any which we do not have listed please let us know. We also have a page which lists law enforcement job openings in Missouri. You can help keep this page updated, maybe by letting us know when openings arise in your department, please let us know when your department has an opening.
When your done in the Chat Rooms, check out the game rooms with black jack, poker and more. We have a Bulletin Board so you can post and receive messages and a Calendar where you can view and list events. Would you like to earn some extra cash while you surf the net? Also see the other free offers and free stuff. Visit the OnLine Store to go shopping.

Join Missouri OnLine

Join the Missouri OnLine web ring and link to other Missouri sites. The web ring will help increase traffic to your site, help fellow Missouri citizens find you and help you find important Missouri sites yourself. The web ring links City web pages, Police Department web pages, Fire Department web pages, citizens web pages and others together. All Missouri related sites are encouraged to join. Follow the link to the web ring and add your site. And please tell others about Missouri OnLine.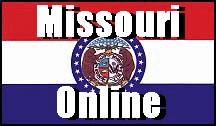 This Missouri OnLine Ring site is owned by Missouri Law Enforcement OnLine
Next Page | Skip It | Next 5 | Previous | Random
Want to join the ring? Get the information.